Duration
20'
Publisher
Instrumentation Notes
solo violin and ensemble
Program Notes
[The revised Peters Edition score of 2007 replaces all previous editions.]
The title of the work is also that of a book by Mary Caroline Richards, an old friend whose poetry and philosophy and example have been of great value to myself and many other artists and friends.
The book concerns itself with mental and physical "centering" in the sense of balancing and the gathering and focusing of one's resources as necessary to "perform well" in any life situation.
In the music I have used the center frequencies of the violin and piano and of the total ensemble as structural points of balance and imbalance around which the form moves in and out of centers of repose. Within the composed continuity there are three "open-form" areas; two are cadenzas for the solo violin and one is a kind of cadenza for the conductor, working with the three instrumental trios (woodwinds, brass, strings).
The work is dedicated to Mary Caroline Richards and to the memory of Bruno Maderna who was a very close friend of mine and whose death I heard of as I was in the process of completing the work. The very last five notes (for solo violin) are quotes from Bruno's first oboe concerto.
—Earle Brown
More Information
Commissioned by the London Sinfonietta for Paul Zukofsky.
Solo Vln. – 1.0.1.1 – 1.1.1.0. – Pn .- Vln. ,Va.,Vc.
Browse the full score
Audio Samples
Centering
Selected Performances
January 19, 2016 • Good Shepherd Center, Seattle, WA
Inverted Space Ensemble
 
January 19, 2013 • Boston
Callithumpian Consort
Steve Drury, conductor
Ethan Wood, solo violin
January 29, 2010 • Frankfurt, Alte Oper
Ensemble: Ensemble ModernConductor: Hans ZenderSoloist: Jagdish Mistry
January 29, 2010 • Frankfurt
Ensemble Modern 
October 24, 2008 • Sydney
Ensemble: Modern Music EnsembleConductor: Daryl Pratt
October 14, 2007 • Bonn
Ensemble: LandesJugendEnsemble für Neue Musik NRWConductor: David SmeyersSoloist: HannaH Walter, Violin
October 13, 2007 • Koeln
Ensemble: LandesJugendEnsemble für Neue Musik NRWConductor: David SmeyersSoloist: HannaH Walter, Violin
October 12, 2007 • Goch
Ensemble: LandesJugendEnsemble für Neue Musik NRWConductor: David SmeyersSoloist: HannaH Walter, Violin
May 11, 2004 • Musee d'Orsay, Paris, France
Ensemble: Ensemble IntercontemporainConductor: Francois Xavier RothSoloist: Jeanne-Marie Conquer
January 18, 2004 • Barbican, London, Great Britain
Ensemble: London SinfoniettaConductor: David Porcelijn
November 20, 2002 • MoMaQNS -Long Island City, New York
Ensemble: S.E.M EnsembleConductor: Petr Kotik
January 12, 2000 • Berlin
Ensemble: Ensemble ResonanzConductor: Petr KotikSoloist: Steffen Tast
November 2, 1998 • UC San Diego
Rand Steiger conducted the SONOR ensemble at UC San Diego with Janos Negyesy as soloist
March 31, 1996 • Frankfurt
Ensemble: Ensemble ModernConductor: Hans ZenderSoloist: Jagdish Mistry
March 31, 1996 • Frankfurt
 Ensemble Modern, conducted by Hans Zender
May 25, 1995 •
Conductor: Peter Kotik
Soloist: Jaqueline Carrasco
April 22, 1995 • Rock Hall, Temple University
Ensemble: Network for New Music and the City CircusConductor: Jan Krzywicki
October 30, 1994 • Vienna, Austria
Conductor: Friedrich Cerha
November 2, 1990 • Amsterdam, Netherlands
Ensemble: Aquarius Ensemble
October 28, 1990 • Amsterdam, Netherlands
Ensemble: Aquarius Ensemble
June 11, 1990 • Vienna, Austria
Ensemble: Klangforum Wien
May 19, 1990 • Lexington, Virginia, USA
Eliot Chapo, vn solo
Margaret Brouwer, vn
Ellen Rose, va
Eugenia Rust, vc
Sue West, fl
Doug Kehlenbrink, bn
Chris Magee, tp
Robert Williams, hn
Don Dresser, tb
Barry Kohlman, cl
Kathy Supove, pn
Earle Brown, conductor 
December 1, 1989 • Oberlin College Conservatory of Music
Ensemble: Oberlin Contemporary Music EnsembleConductor: Earle BrownSoloist: Matthew Loden
October 17, 1989 • Boston
November 4, 1988 • La Jolla, University
August 7, 1988 • Aspen, Colorado
June 11, 1988 • Buffalo, State University
June 14, 1987 • Amsterdam, Netherlands
Ensemble: Radio Hilversum Chamber Orchestra (Holland Festival)
May 11, 1987 • Hartford, Connecticut USA
Ensemble: University of Hartford Orchestra
May 11, 1987 • Auditorium RAI, Rome
Ensemble: Ensemble Gruppo Musica d'OggiConductor: Earle Brown
October 31, 1985 • West Hartford
April 18, 1984 •
January 28, 1981 •
Ensemble: Saarlaendischer Rundfunk
July 15, 1980 • Radio France, Paris, France
Ensemble: Radio France Orchestra
March 26, 1979 • Paris, France
Ensemble: Ensemble Intercontemporain
March 18, 1977 • Rotterdam, Netherlands
Ensemble: Radio Amsterdam
November 6, 1975 • Germany
Ensemble: Saarlaendischer Rundfunk
October 31, 1975 • Germany
Ensemble: Saarlaendischer Rundfunk
March 27, 1975 • Saarbrucken, Germany
Ensemble: Saarlaendischer Rundfunk
March 25, 1975 • Germany
Ensemble: HR Frankfurt
March 9, 1975 • Germany
Ensemble: Saarlaendischer Rundfunk
February 26, 1975 •
Ensemble: Deutschlandfunk
February 13, 1975 • Germany
Ensemble: Saarlaendischer Rundfunk
January 17, 1975 • Koln, Germany
Ensemble: WDR Koln
December 3, 1974 • Paris, France
Ensemble: Musique Plus
December 2, 1974 • Paris, France
Ensemble: Musique Plus
November 26, 1974 •
Ensemble: Suedwestfunk
August 22, 1974 • Stuttgart, Germany
Ensemble: Saarlaendischer Rundfunk
December 7, 1973 • London, England UK
Ensemble: London SinfoniettaConductor: Hans ZenderSoloist: Paul Zukofsky
December 4, 1973 • Manchester, England UK
World Premiere
Ensemble: London Sinfonietta
Conductor: Hans Zender
Soloist: Paul Zukofsky
Sample Page
Recordings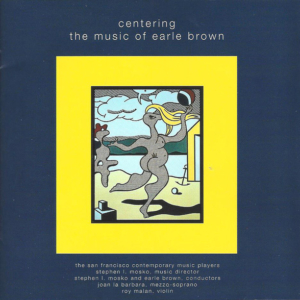 Centering: The Music of Earle Brown (released 1998)
Newport Classic
Performed by San Francisco Contemporary Music Players
Buy from
New Port Classic