Duration
4'
Publisher
Instrumentation Notes
flute, piano (also celeste), percussion
Program Notes
"….The title refers to the tracing (graphing) of the movement of "particles" within "cloud chambers" as they rebound off one another and thereby influence each other's actions….."
HODOGRAPH I (1959) was composed in the spring of 1959 for the Darmstadt festival of that year. Luigi Nono was to give a lecture on notation and formal processes and suggested that I write this work for Severino Gazzelloni, David Tudor and Christoph Caskel, each of them an outstanding soloist.
The notation is primarily "proportional" (highly specific and controlled but with slightly flexible rhythmic articulation) but there are also three 15-second "graphically notated" sections in which my graphic line-drawings are the basis for improvisation by the performers.  [View additional graphically notated sections.] In effect, three collaborative cadenzas between my "implications" and the performer's spontaneity.
—Earle Brown
More Information
Piano/Celeste is one player. Percussion is orch. bells (Glockenspiel) marimba, vibraphone.
Commissioned by Luigi Nono for Darmstadt Festival, Germany.
Audio Samples
Hodograph I
Selected Performances
December 15, 2012 • Bern, Switzerland
Ensemble: Ensemble Proton
January 12, 1995 • Leipzig
June 1, 1993 • Hebbel Theater, Berlin
September 1, 1959 • Darmstadt
Ensemble: David Tudor, Severino Gazzelloni, Christoph CaskelWorld Premiere
Sample Page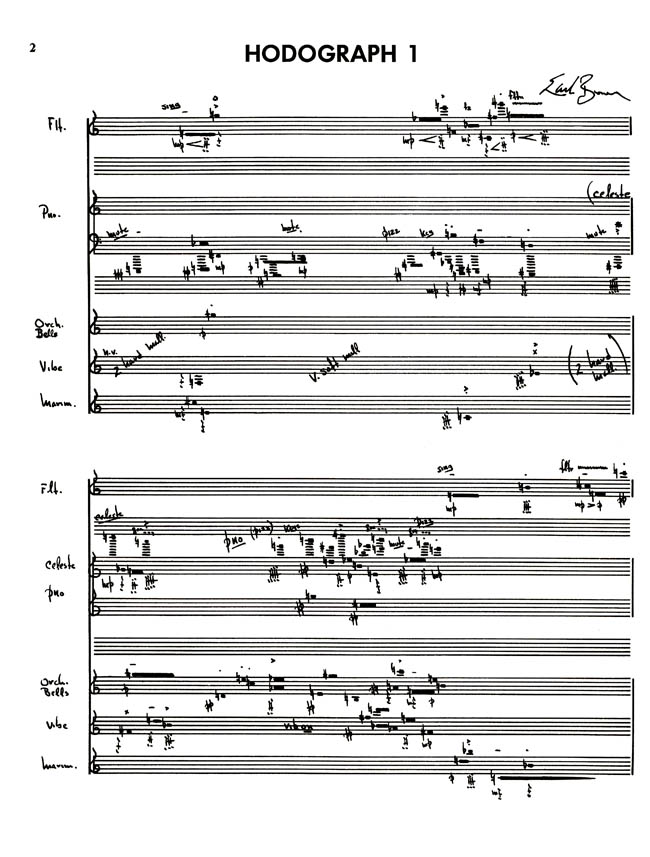 Recordings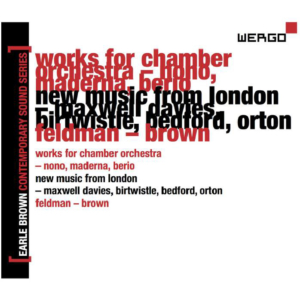 A life in music – CONTEMPORARY SOUND SERIES Box 2 (released 2009-09-01)
Wergo
Performed by Various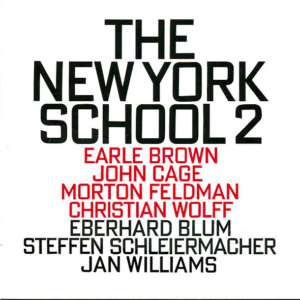 The New York School 2 (released 1994)
Hat Hut Records
Performed by Eberhard Blum, Steffen Schleiermacher, Jan Williams