Duration
6' - 13'
Publisher
Instrumentation Notes
Fl., B-cl., Tpt. – Pn. – 2Vln., Va., Vc.
Program Notes
[The revised Peters Edition score of 2007 replaces all previous editions. Several errors in the previous score have been corrected in this edition.]
NOVARA was composed, at the request of Lukas Foss, for a Fromm concert at the Tanglewood Festival in the summer of 1962 and the first performance was conducted there by the composer. The work was written just after the composing and Venice premiere of AVAILABLE FORMS II (for 98 instruments and two conductors), and is a kind of "relaxing" into the intimacy and delicacy of chamber music and soloistic possibilities after the very large resources and massed orchestral sounds of that work. NOVARA is an "open-form" work and uses many of the less characteristic sounds of the instruments that are sometimes referred to as "noises" but are nevertheless instrumental sounds which can extend the formal and expressive potential of the work. "Open-form" means that all of the sound materials in the work are notated and controlled in the score but that their sequence, juxtaposition, tempi, and repetition are left to the spontaneous (during the performance) decisions of the conductor as the performing process develops and unfolds between himself, the sound materials and the musicians. The form of the work is therefore unique in each performance but it is always NOVARA because only those composed sound events may be used.
—Earle Brown
More Information
"Open form" composition.
Audio Samples
Novara
Selected Performances
March 18, 2016 • Dallas Museum of Art
Ensemble Sounds Modern
Conductor: Joseph Klein
January 19, 2016 • Good Shepherd Center, Seattle, WA
Inverted Space Ensemble 
March 9, 2008 • BBC R3 Cardiff
Ensemble: Contemporary Music Ensemble of WalesConductor: Gordon Downie
October 15, 1990 • Vienna
Ensemble: Klangforum
October 31, 1988 • Boston, New England Conservatory
November 26, 1985 • Freiburg, Germany, Institut fuer Neue Musik
November 18, 1983 • Strasbourg, France
March 20, 1975 • University of York
March 8, 1974 • Rotterdam
Ensemble: Rotterdam Philharmonic
January 14, 1969 • Peabody Conservatory of Music
Ensemble: The Peabody Contemporary EnsembleConductor: Earle Brown
November 30, 1961 • Tanglewood Festival
Conductor: Earle Brownfirst performance
Sample Page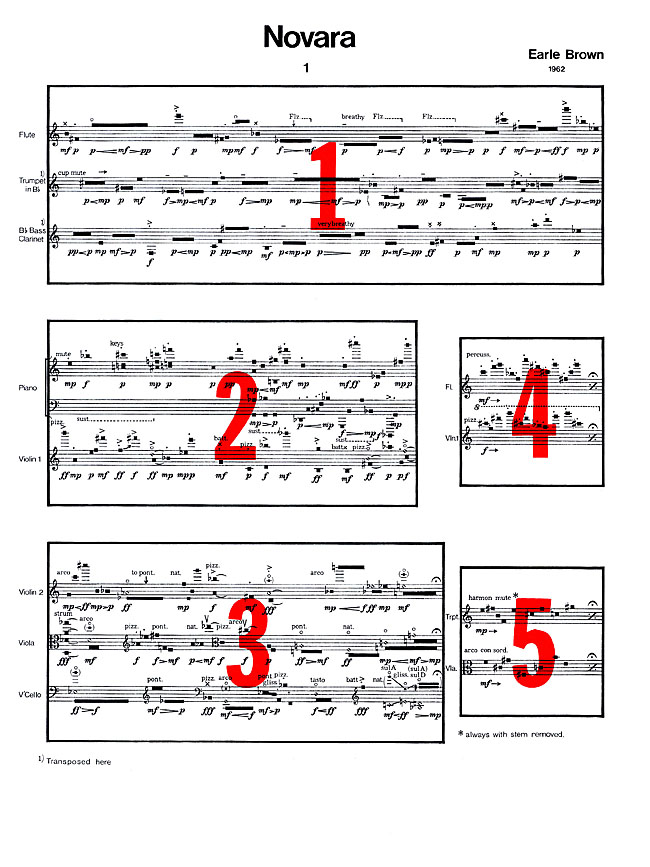 General instructions for conducting "open form"
Recordings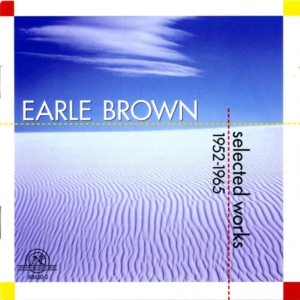 Selected works 1952-1965 (released 2006-08-01)
New World Records
Buy from
New World Records
Amazon

American Masters Series: Earle Brown (released 2000)
CRI (note: this has been reissued as "Selected Works 1952-1965" by New World Records)
Performed by Various
Buy from
Amazon