Duration
9'
Publisher
Instrumentation Notes
ensemble
Program Notes
[The revised Peters Edition score of 2007 replaces all previous editions.]
SIGN SOUNDS is an "open form" composition in which the sound-content is written and controlled in "proportional notation." The final form of each performance of the composed elements will be different according to the musicality and sensibilities of the conductor.
See performance notes for FOLIO (1952-53) and/or AVAILABLE FORMS I + II (1961 and 1962) [or NOVARA (1962)].
More Information
1.0.1.B-cl.1 – 0.1.1.0 – 4Perc. – Pn., Cel., Hrp. – 1.1.1.1.1
Commissioned by the State University of New York, Albany, for a performance in Potsdam, New York.
As of March 16, 2016, an errata page can be found here.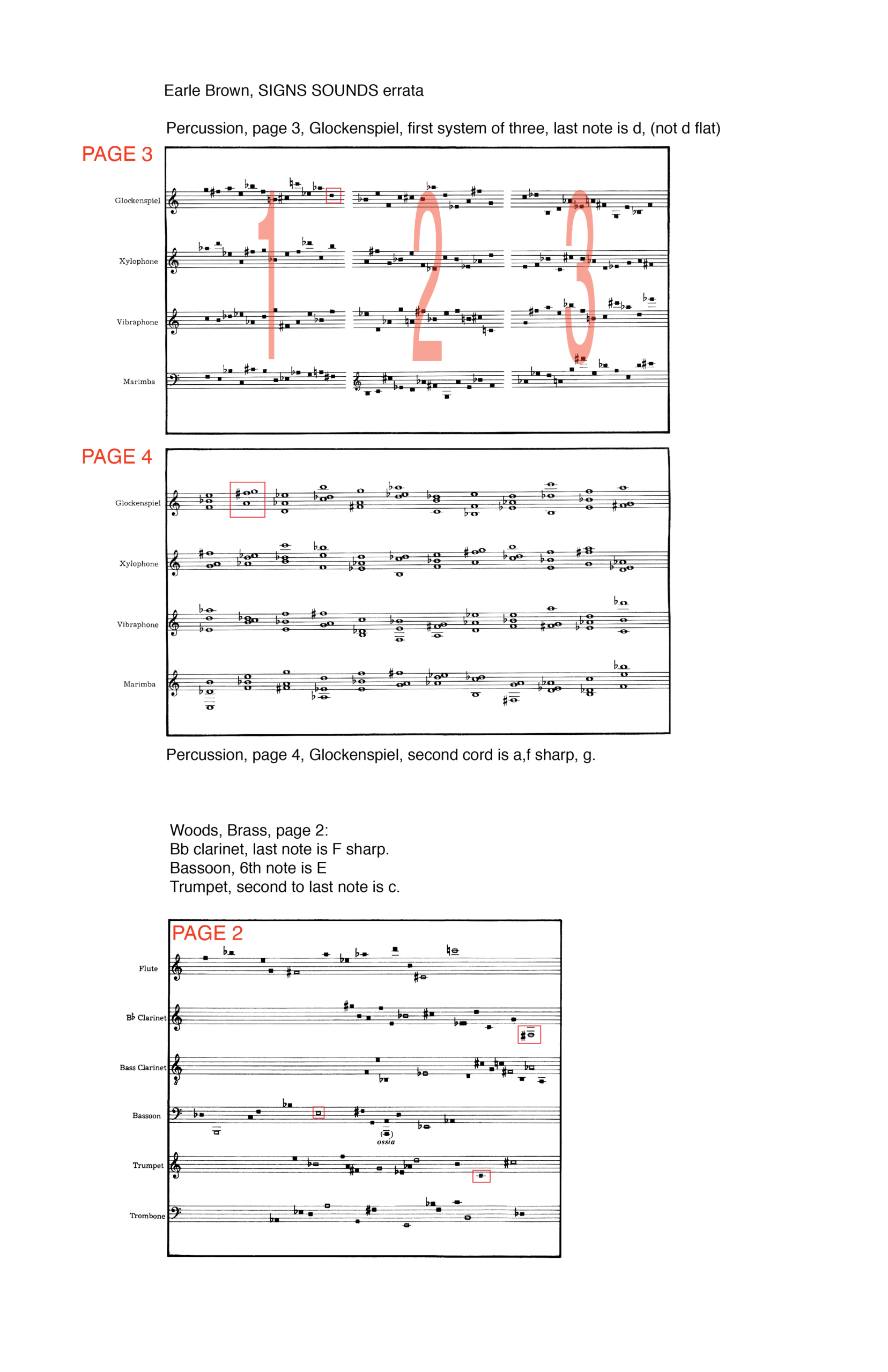 Audio Samples
Sign Sounds
Selected Performances
February 24, 2016 • Scottsdale
Arizona Contemporary Ensemble
Conductor: Dan Asia
February 22, 2016 • Tucson
Arizona Contemporary Ensemble
Conductor: Dan Asia
January 19, 2013 • Boston
Callithumpian Consort
Conductor: Stephen Drury
October 10, 2006 • NEC's Jordan Hall, Boston
Conductor: Stephen Drury
November 30, 1997 • Miami
Ensemble: New World SymphonyConductor: Earle Brown
November 17, 1990 • Crowder Hall, University of Arizona
Ensemble: The Arizona Contemporary EnsembleConductor: Daniel Asia
August 19, 1980 • Radio France
January 22, 1979 • Radio France, Paris
Conductor: Earle Brown
May 29, 1978 • NY
NYC premiere.
Musical Elements - New Music from the Northeast
The Truck and Warehouse Theatre, 79 East 4th St, Manhattan
Conductor: Dan Asia
April 1, 1978 • Valencia, California
Ensemble: Cal Arts 20th Century PlayersConductor: Earle Brown
September 30, 1972 • Potsdam, New York
Conductor: Earle Brownfirst performance
November 30, 1971 •
Ensemble: Peabody Conservatory EnsembleConductor: Earle Brown