Duration
16'
Publisher
Instrumentation Notes
Fl., Trbn., Hrp, Vln, Vc, and tape
Program Notes
[The revised Peters Edition score of 2007 replaces all previous editions.]
"I first composed material for an 11 piece orchestra, recorded it and used it as a "reservoir' from which to combine, transform and form the sound material, manipulating it in the studio as a sculptor molds and forms clay. Much of the material in the first and third sections I improvised myself, on piano, celeste, harp, C.bass, vibraphone, marimba, etc. (One of the virtues of "tape pieces" is that the composer himself can be in direct and personal contact with the sounds he wants, rather than having to send obscure graphic messages to instrumentalists.) I have used many of the small, "noisy" sounds that are nearly impossible to get by "scoring" them but have also drawn them graphically in the "live" score in order to try to provoke a delicate and spontaneous "cross talk" between "live" and taped elements.
More Information
Commissioned by "Service de la Recherche; l'O.R.T.F.," Paris.
Fl., Trbn., Hrp, Vln, Vc, and 4 channels of prerecorded tape
Browse the
Audio Samples
Times Five
Selected Performances
June 22, 2016 • Paris, France
performed by Ensemble Infuse
December 9, 2015 • The Cell, New York City
Ensemble Mise-en
January 18, 2013 • Boston
Callithumpian Consort
June 28, 2008 • Berlin, Akademie der Kuenste
October 5, 2004 • Boston, Massachusetts, USA
Ensemble: New England Conservatory Orchestra
December 12, 2003 • Akademie der Kunst, Berlin, Germany
Ensemble: Kammerensemble Neue Musik BerlinConductor: Jonathan Stockhammer
May 18, 1986 • Saarbruecken, Saarlaendischer Rundfunk
February 8, 1985 • Berlin
May 13, 1984 • Koeln, Germany
Ensemble: Ensemble Koeln
May 29, 1981 • Saarbruecken, Saarlaendischer Rundfunk
August 30, 1976 • Venice, Italy
March 20, 1975 • Basel
May 31, 1974 • Basel
March 8, 1974 • Rotterdam
Ensemble: Rotterdam Philharmonic
February 27, 1973 • The Baltimore Museum of Art
Ensemble: Peabody Conservatory Faculty and StudentsConductor: Earle Brown
February 6, 1972 • Peabody Conservatory of Music
January 31, 1963 • Paris, France
 conducted by Earle Brown
Sample Page
Recordings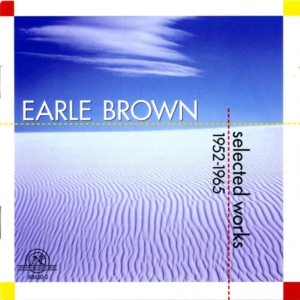 Selected works 1952-1965 (released 2006-08-01)
New World Records
Buy from
New World Records
Amazon

American Masters Series: Earle Brown (released 2000)
CRI (note: this has been reissued as "Selected Works 1952-1965" by New World Records)
Performed by Various
Buy from
Amazon

Musique Expérimentale II (released 1964)
disques BAM
Performed by Group de Recherches Musicales de L'O.R.T.F.
Buy from
Discogs