Duration
15'
Publisher
Instrumentation Notes
Fl., Cl., B-cl., Vln., Vc., Db., and 4-channel audio
Program Notes
This score was previously self-published by Earle Brown. It is available as facsimile print from Edition Peters as of 2007.
More Information
Program Notes:
The title is that of a painting by Bob Rauschenberg. Bob and I have been friends since 1952 and he and his work have been an influence on my work for many years and perhaps my work on his, in the early days. There has always been a layering and collage process in my work; the idea of 2 or more things transforming each other by being in "flexible" relationships to one another. Musical performance allows these relationships to change from performance to performance in a kind of endless re-association of the composed elements of that piece. In 1952 I called this a "mobile score" (having been influenced by Calder) but it has since been officially called "open form". TRACER, being a kind of "homage" to Bob, has even more of this quality of endless and unexpected transformability than most of my other works, which is a condition that Bob himself might very well utilize if he were to compose sounds in time — which, as we know, he just might — at any moment.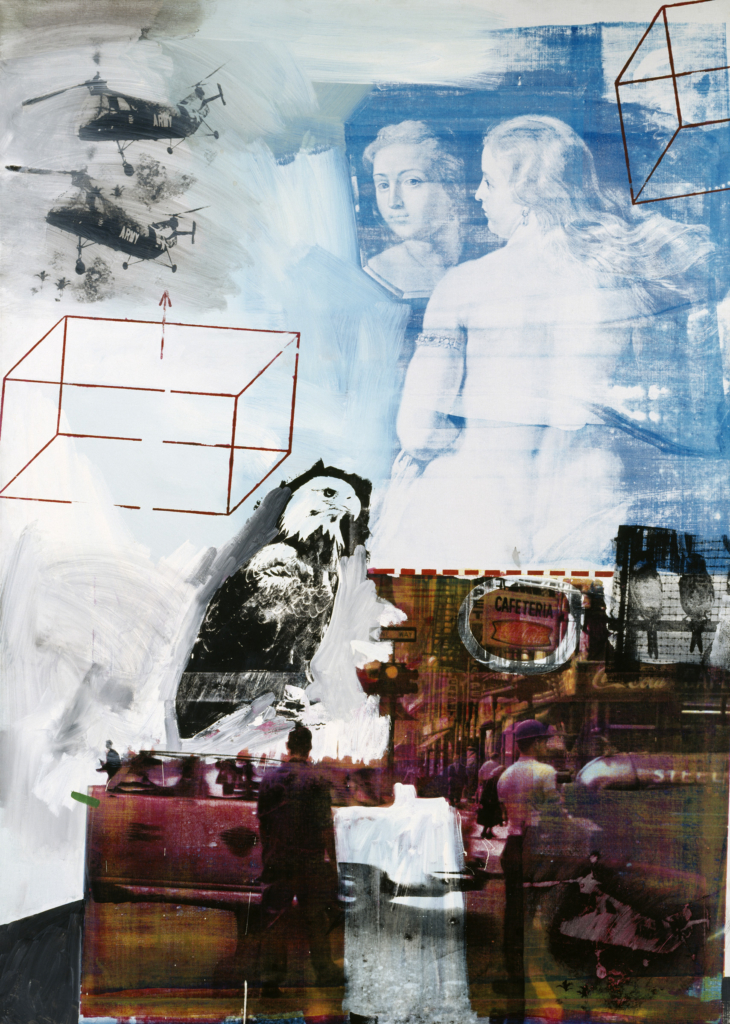 The four channels of tape material are on endless tape cassettes* (no functional beginning or end). The quality and time relationships of what is on each cassette does not change but the four cassettes will constantly be in different temporal and spatial relationships to one another from performance to performance. The conductor therefore cannot learn or predict the rhythms and placement of the four channel sound environment that he will be "conversing" with in performance. The instrumental material is all music composed by me (as are the sounds on the tapes) scored in an "open-form" context — spontaneously combined, juxtaposed, modified and "formed". Working in the gap between art and life, as Bob Rauschenberg once said.
—Earle Brown, 1984–85
*As of 2008, the four endless tape cassettes used at the time of the creation of this work have been replaced by digital audio and a Max/MSP patch.
Audio Samples
Tracer (1985)
Selected Performances
January 19, 2016 • Good Shepherd Center, Seattle, WA
Inverted Space Ensemble
 
December 9, 2015 • The Cell, New York City
Ensemble Mise-en
April 13, 2014 • Singapore
Yong Siew Toh Conservatory of Music
New Music Ensemble
Conductor: Manuel Nawri
February 7, 2008 • Houston
Ensemble: MusiquaConductor: Anthony Brandt
November 3, 1986 • Leo S. Bing Theater, Los Angeles County Museum of Art
Ensemble: MEC EnsembleConductor: Earle Brown
January 20, 1986 • San Francisco Museum of Art
Ensemble: San Francisco Contemporary Music PlayersConductor: Stephen Mosco
April 18, 1985 • North American New Music Festival, Buffalo
Ensemble: SEM EnsembleConductor: Earle Brown
Sample Page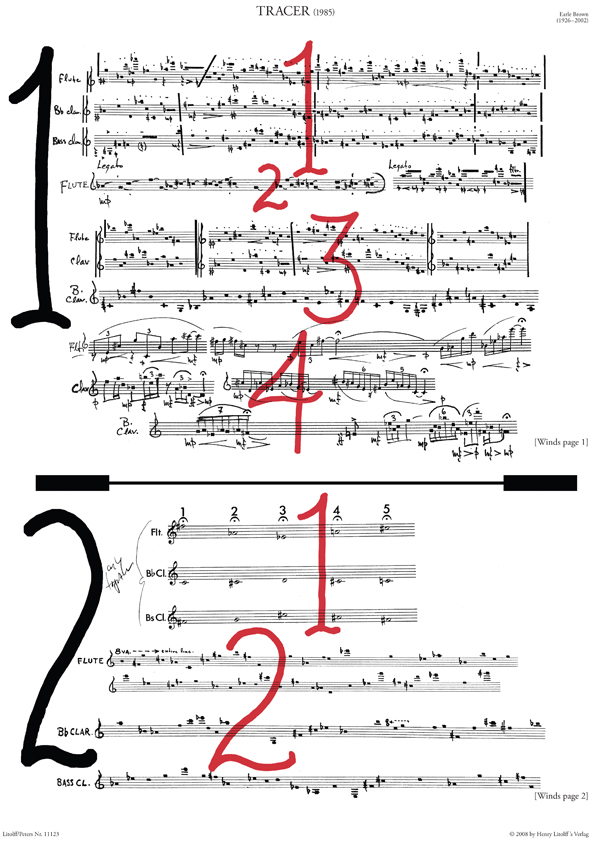 General instructions for conducting "open form"
Recordings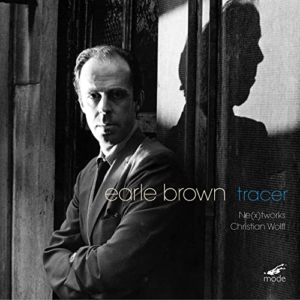 TRACER (CD / DVD) (released 2007)
MODE records
Performed by Ne(x)tworks
Buy from
Mode Records
bandcamp